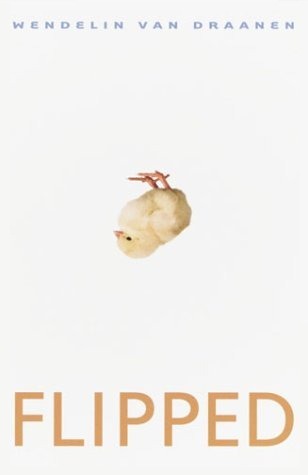 Flipped
is a romance told in two voices. The first time Juli Baker saw Bryce Loski, she flipped. The first time Bryce saw Juli, he ran. That's pretty much the pattern for these two neighbors until the eighth grade, when, just as Juli is realizing Bryce isn't as wonderful as she thought, Bryce is starting to see that Juli is pretty amazing. How these two teens manage to see beyond the surface of things and come together makes for a comic and poignant romance.
via goodreads
❝Some of us get dipped in flat, some in satin, some in gloss; 
but every once in a while, you find someone who's iridescent, 
and once you do, nothing will ever compare.❞
*BOOK*
Flipped is a dual point of view, from Bryce's and Juli's perspective. This book is cute and light-hearted romance. I've read this from 

May 29 to 31,2014 (Yeah, I'm a slow-reader).If you want to take a break from problems this book is all you need. 
The first time Juli saw Bryce she flipped, it was before the beginning of 2nd grade. On 8th grade it was Bryce who flipped. But Juli doesn't like Bryce anymore. You think you know the person better but you don't, like Juli to Bryce. You need to look on the whole landscape. 
*Movie
The movie is Brilliant! It is same as the book but they just changed some minor things on it. When I finished the book, I downloaded the movie quickly. I love the characters, they are just the same as I imagined and the soundtrack too.
5 hearts on the movie and the book