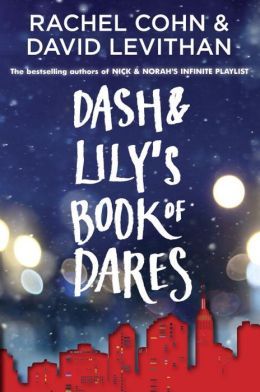 "I've left some clues for you.
If you want them, turn the page.
If you don't, put the book back on the shelf, please."

16-year-old Lily has left a red notebook full of challenges on her favorite bookstore shelf, waiting for just the right guy to come along and accept its dares. Dash, in a bad mood during the holidays, happens to be the first guy to pick up the notebook and rise to its challenges.



What follows is a whirlwind romance as Dash and Lily trade dares, dreams, and desires in the notebook they pass back and forth at locations all across New York City. But can their in-person selves possibly connect as well as their notebook versions, or will their scavenger hunt end in a comic mismatch of disastrous proportions?



Co-written by Rachel Cohn (GINGERBREAD) and David Levithan, co-author of WILL GRAYSON, WILL GRAYSON with John Green (THE FAULT IN OUR STARS), DASH & LILY'S BOOK OF DARES is a love story that will have readers scouring bookstore shelves, looking and longing for a love (and a red notebook) of their own.
Page-turner, fantastic and well-written. This urges me to buy a red moleskine notebook, write some clues and leave it in a bookstore.
The concept of the book is so cool. Lily made a challenge in the red moleskine notebook and dash accepts it.
This book fits in the christmas season! I love the characters and my favorite is Dash short for Dashiell, one of my fictional boyfriends. Dash is a geek and when his words are full of geek.
One of my fave scene in the book is the Dash and Lily's version of Cinderella. Lily got afraid to Dash's friend so instead the notebook, she accidentally gave her Aunt's boot to them. In addition, that cut the notebook exchanging of Dash and Lily.
When Dash saw Lily messed up on Amy's birthday he got disappointed because Dash made an image of Lily in his mind and he expected Lily to be that girl. So don't expect!