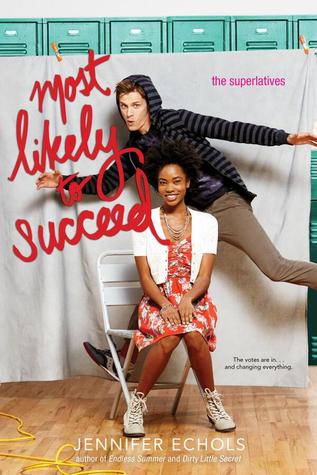 Title:
Most Likely to Succeed
Author:
Jennifer Echols
Publication Date:
August 4, 2015
In this sexy conclusion to The Superlatives trilogy from Endless Summer author Jennifer Echols, Sawyer and Kaye might just be perfect for each other—if only they could admit it.



As vice president of Student Council, Kaye knows the importance of keeping order. Not only in school, but in her personal life. Which is why she and her boyfriend, Aidan, already have their lives mapped out: attend Columbia University together, pursue banking careers, and eventually get married. Everything Kaye has accomplished in high school—student government, cheerleading, stellar grades—has been in preparation for that future.






To his entire class, Sawyer is an irreverent bad boy. His antics on the field as school mascot and his love of partying have earned him total slacker status. But while he and Kaye appear to be opposites on every level, fate—and their friends—keep conspiring to throw them together. Perhaps the seniors see the simmering attraction Kaye and Sawyer are unwilling to acknowledge to themselves…





As the year unfolds, Kaye begins to realize her ideal life is not what she thought. And Sawyer decides it's finally time to let down the facade and show everyone who he really is. Is a relationship between them most likely to succeed—or will it be their favorite mistake?
My Thoughts
My friends gave Most Likely To Succeed to me as a birthday gift! Huge thanks to Bea and Alexc, SML. Halfway on reading it, I just discovered that it's a trilogy. I haven't read Biggest Flirts and Perfect Couple. Glad I could keep up with the story because it mostly focuses on Kaye and Sawyer.
Kaye has planned it all, going to college with her boyfriend, Aidan. Things started to change when Sawyer makes his move. I like the story line, there are a lot of dramas but it doesn't frustrate me that much. I'm already a Kaye and Sawyer shipper at chapter 1. Their romance really catches our hearts.
I like Kaye's character, as the story goes, she learns how to stand up to the problems, especially with her boyfriend and her mother. Sawyer! I fell in love with him, he's such a great character. He's not giving up even though he has bunches of problems.
It's a great read, it doesn't have boring moments, I enjoyed it. I'm planning to read the other books in the trilogy.
4 hearts!