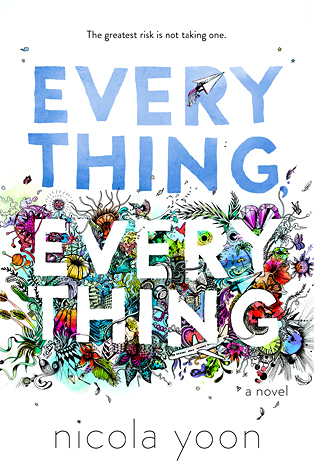 Title:
Everything, Everything
Author:
Nicola Yoon
Publication Date:
September 1, 2015
This innovative, heartfelt debut novel tells the story of a girl who's literally allergic to the outside world. When a new family moves in next door, she begins a complicated romance that challenges everything she's ever known. The narrative unfolds via vignettes, diary entries, texts, charts, lists, illustrations, and more.



My disease is as rare as it is famous. Basically, I'm allergic to the world. I don't leave my house, have not left my house in seventeen years. The only people I ever see are my mom and my nurse, Carla.

But then one day, a moving truck arrives next door. I look out my window, and I see him. He's tall, lean and wearing all black—black T-shirt, black jeans, black sneakers, and a black knit cap that covers his hair completely. He catches me looking and stares at me. I stare right back. His name is Olly.

Maybe we can't predict the future, but we can predict some things. For example, I am certainly going to fall in love with Olly. It's almost certainly going to be a disaster.
My Thoughts
**I received an Advanced Reader Copy from the publisher via Netgalley.
Everything, Everything follows the story of Madeline Whittier who has a disease called SCID, it means that she is allergic to the world. She can't go outside, her world is only composed of their house. She lives contentedly with her mother, who's a doctor and Carla, her personal nurse. It was all books and quality time with her mother until a gorgeous guy, Oliver became her neighbor.
Sometimes, I got irritated with Madeline. She doesn't know how to be contented. She's selfish. And she's willing to risk her life, got infected on the outside world, just to be with Oliver. She didn't even consider her mother when she ran away. I pity Madeline, her life is literally a lie.
Oliver is such a boyfriend material! He always wants to protect Madeline and his family. He's also good in parkour! I remembered Ryan Higa on him. Madeline and Oliver romance was fine. It had a great effect on the story.
The ending was okay, that plot twist though! I enjoyed reading it and I loved the illustrations! I recommend this book to everyone, especially if you love YA!
4.5 hearts!