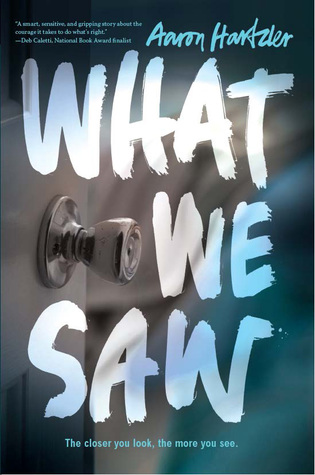 Kate Weston can piece together most of the bash at John Doone's house: shots with Stacey Stallard, Ben Cody taking her keys and getting her home early—the feeling that maybe he's becoming more than just the guy she's known since they were kids.





But when a picture of Stacey passed out over Deacon Mills's shoulder appears online the next morning, Kate suspects she doesn't have all the details. When Stacey levels charges against four of Kate's classmates, the whole town erupts into controversy. Facts that can't be ignored begin to surface, and every answer Kate finds leads back to the same question: Where was Ben when a terrible crime was committed?






This story—inspired by real events—from debut novelist Aaron Hartzler takes an unflinching look at silence as a form of complicity. It's a book about the high stakes of speaking up, and the razor thin line between guilt and innocence that so often gets blurred, one hundred and forty characters at a time.
My Thoughts
I enjoyed reading What We Saw. You really can't put it down, it makes you eager to know what really happened. The writing style is great, the characters and the scenes are well described.
What we saw review Eye opening What happens to society if you speaks. What we Saw follows the story of a crime happened on a teenage party. A crime teenagers nowadays think funny. Kate was a friend of Stacy, she attended a party organized by Dooney. The day after the party, photos were posted in social media and one photo shattered Kate. It was Stacy. Stacy was raped. Can Stacy fight for her right? She's up against some big people. Can Kate help her?
Kudos to the author, this book is an eye opener for us. Teenagers view rape as a joke, not a crime. It really describes our society. The injustice. If you ever speak up on a crime they will sue you. Everyone should read it. Sending my huge thanks to National Book Store for the ARC!
4.5 hearts!