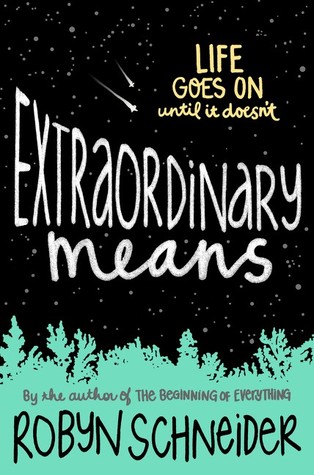 Title:
Extraordinary Means
Author:
Robyn Schneider
Publication Date:
May 26, 2015 by Katherine Tegen Books
From the author of

The Beginning of Everything

: two teens with a deadly disease fall in love on the brink of a cure.



At seventeen, overachieving Lane finds himself at Latham House, a sanatorium for teens suffering from an incurable strain of tuberculosis. Part hospital and part boarding school, Latham is a place of endless rules and confusing rituals, where it's easier to fail breakfast than it is to flunk French.

There, Lane encounters a girl he knew years ago. Instead of the shy loner he remembers, Sadie has transformed. At Latham, she is sarcastic, fearless, and utterly compelling. Her friends, a group of eccentric troublemakers, fascinate Lane, who has never stepped out of bounds his whole life. And as he gradually becomes one of them, Sadie shows him their secrets: how to steal internet, how to sneak into town, and how to disable the med sensors they must wear at all times.

But there are consequences to having secrets, particularly at Latham House. And as Lane and Sadie begin to fall in love and their group begins to fall sicker, their insular world threatens to come crashing down.



Told in alternating points of view,

Extraordinary Means

is a darkly funny story about doomed friendships, first love, and the rare miracle of second chances.
My Thoughts
**I received an Advanced Reader Copy from the publisher via Edelweiss
This is the first book of Robyn that I've read and I'm now looking forward to read The Beginning of Everything. Extraordinary Means is beautifully written. Kudos, Robyn!
Extraordinary Means is told in alternating point of views of Lane and Sadie. Lane is a witty guy and has a great sense of humor. Sadie is a cool and rebellious person. Their chemistry really clicked in. When they are dating, both of them really changed for the better. Lane learned to enjoy his teenage life and Sadie became totally happy.